ÜÇGE DRS, THE INNOVATIVE BRAND OF SMART WAREHOUSES, IS IN WIN EURASIA
ÜÇGE DRS Warehouse Racking Systems produces solutions to meet all the necessary needs of all sectors both at home and abroad with the storage systems it has implemented. ÜÇGE DRS, which has achieved many important firsts in its past, such as 'producing Turkey's first fully automatic smart warehouse systems, developing mobile warehouse systems of which it is still the only domestic manufacturer' and offering it to the service of the sector; It rapidly continues its work that will shape the future.
Emphasizing the important meetings they held at the successful fair and that they will continue to undertake major projects in the future, ÜÇGE DRS Robotics Director Tunçer YILDIZ evaluated the fair as follows; At WIN Eurasia, where we had the opportunity to come together with many important professional names from the storage and logistics industry, we stood out with our advanced technology power and innovative products and solutions that shape the storage industry. As ÜÇGE DRS, we offer fast, smooth and integrated service expectations that stand out in all sectors that plan investments compatible with Industry 4.0; We offer fully automatic, 100% domestic, smart warehouse solutions ASRS PAŞA, MULTIPAL and ODİS. In addition, we produce competitive solutions for decreasing square meters despite increasing costs, with our mobile shelf MOBİPAL and shuttle AUTOPAL semi-automatic systems and our image processing software that provides digital tracking in manual warehouses. 
ÜÇGE DRS took part in WIN EURASIA, Eurasia's leading industrial fair, organized by Hannover Fairs Turkey and where dozens of industry professionals come together every year, with its fully automatic warehouse solutions and new generation smart technology "Automatic Vertical Stacking System - ODİS". ÜÇGE DRS Warehouse Racking Systems, serving with innovative storage solutions; It is among the world's major suppliers of warehouse shelving systems and robotic storage solutions for the logistics, retail and industrial sectors. ÜÇGE DRS, a global brand with its production and technology power, is at its stand at WIN Eurasia, which is shaped around the theme of "Industrial Transformation" this year; It welcomed its visitors with its 46-year deep-rooted history, advanced technology investments and storage solutions that contribute greatly to the sector.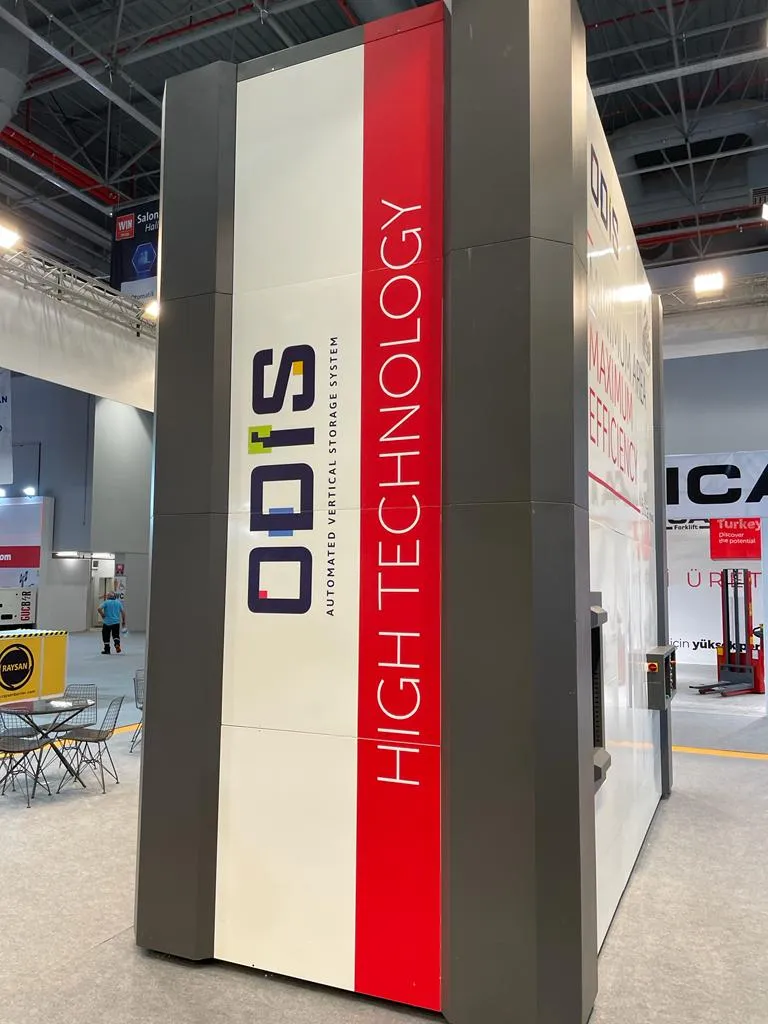 In addition to all these, we also make a difference with the fully automatic vertical stacking system ODİS, a domestic and original solution we have developed for the management of mobile warehouses and consumables needed in many stages of industry and logistics. As one of the world's leading companies with 100% domestic capital that produces turnkey projects in the field of warehousing and logistics, we once again felt our power and were proud of the interest we received at this great meeting. We held intensive meetings from the beginning to the end of the fair, which lasted four days in total, and as the ÜÇGE DRS Team, we returned with many cooperation opportunities.