ÜÇGE DRS Warehouse Racking Systems took part in WIN Eurasia, one of the most important meetings of the sector, organized by Hannover Fairs Turkey, where industry professionals from dozens of countries come together every year, with its fully automatic warehouse solutions and ODİS, a new generation technology smart vertical stacking system. .
ÜÇGE DRS's Automation Investments Made Their Mark on WIN Eurasia
At WIN Eurasia, where we had the opportunity to come together with many professional names from the warehousing and logistics industry, we stood out with our high technology power that shapes the warehousing industry and with our innovative products and solutions we developed for automation. The market's shift from horizontal to vertical stacking in the storage industry and our goal of providing more efficient solutions to our customers with decreasing square meters despite increasing costs were reflected in the development process of ODİS. In the light of these studies, we implemented the Automatic Vertical Stacking System under the ODİS brand as an effective solution according to the changing needs of our customers.
We received positive feedback about this automation-oriented system from our visitors, who had the opportunity to closely examine the working system of ODİS at the fair, the advantages it will provide, and the detailed explanations of our R&D team consisting of software and project engineers. Besides; We also had the opportunity to share our solutions and systems under the headings of dark warehouse, unmanned robotic warehouse projects, image processing systems, semi-automatic Mobipal Systems and Autopal branded shuttle system with the visitors.
As one of the world's leading companies with 100% domestic capital that produces turnkey projects in the field of warehousing and logistics, we once again felt our power and were proud of the interest we received at this great meeting. "We held intensive meetings from the beginning to the end of the fair, which lasted four days in total, and as the ÜÇGE DRS Team, we returned with many cooperation opportunities." said.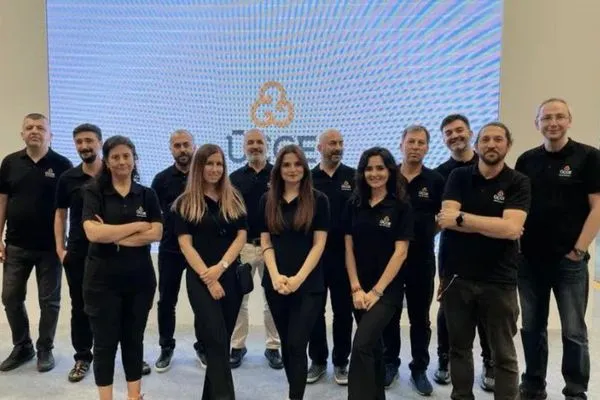 Stating that they had a very successful fair process with the opportunity to meet with the participants both in the physical environment and in the digital environment, Güven said, "We had meetings with many local and foreign visitors at the fair, where we had the opportunity to host productive meetings. Although we are a company that has grown with domestic capital, our European structuring, which allows us to have a stronger say in the global market, was also considered an investment advantage by foreign investors.
In 2019, we completed the structuring of WORLD Company, the European structuring of the ÜÇGE group of companies, in Cologne, Germany, the center of Europe, with its sales team and warehouse organization, in order to be able to more easily access and serve storage solutions on the international platform, as well as in the retail sector. We had the opportunity to introduce our company, which represents the ÜÇGE power more closely in Europe, at WIN Eurasia." said.